In-Person Early Childhood Program
Tuition-Free Classes ages 4-5

Fall 2021 registration opened the week of August 23, 2021.
Limited spaces remain. E-mail enrollment@nobadance.com for details about how to register.

Classes are September – December, 2021
Programming, schedules and locations subject to change
"My kids look up to the teachers, and I see them as positive role models. They are able to stay healthy and happy!"

-NOBA Parent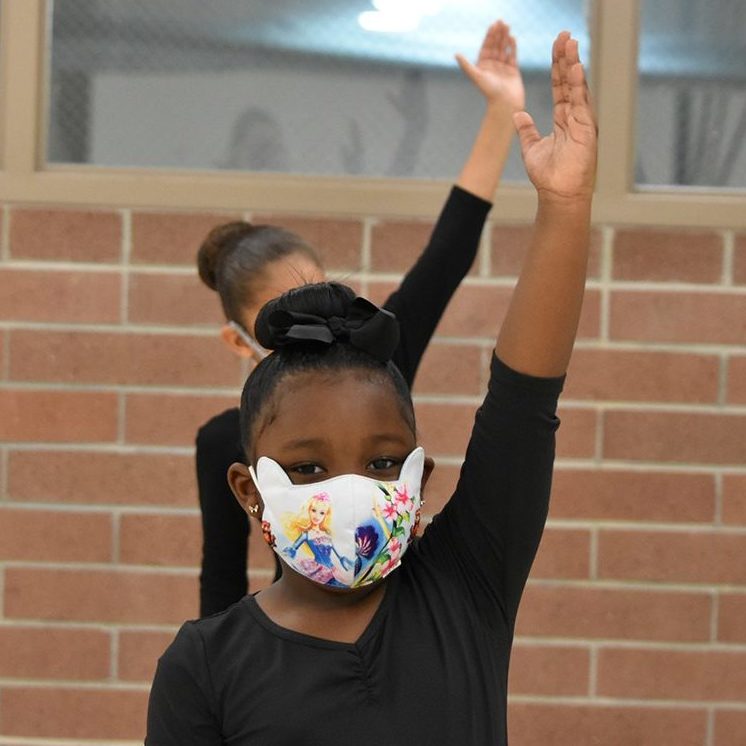 Early Childhood Program
(Ages 4-5)
NOBA's Early Childhood Program returns to NORD centers with ballet/creative movement classes, continuing the excellent training in our nationally recognized curriculum. Please see below for a schedule of classes and locations. This program offers a unique opportunity for the very young dancer to begin ballet within a creative and enjoyable yet structured class. Teaching artists introduce sequential training with solidly crafted choreography, developing an understanding of the role of music as well as interpersonal skills such as teamwork and discipline.
Limited spaces remain. E-mail enrollment@nobadance.com for details about how to register.
Ages 4-5. The child must turn the age of 4 by September 13, 2021.
All classes are tuition-free.
A $15 registration fee per child applies per type of class and center.
Families may register for one class per week, at one location.
Registration is required to participate.
Students will have the opportunity to perform for family and friends through NOBA's Neighborhood Concert Series at each center in December.
Schedule of Classes and Locations
No classes will be held November 22-26, 2021.
Programming, schedules and locations subject to change
BEHRMAN REC CENTER
2529 General Meyer Avenue
New Orleans, LA 70114 MAP
Tuesdays / Sept. 14 – Dec. 9
4:15-5:00pm • Early Childhood Ballet (Group A) (4-5 y/o)*
Thursdays / Sept. 16 – Dec. 9
4:15-5:00pm • Early Childhood Ballet (Group B) (4-5 y/o)*
---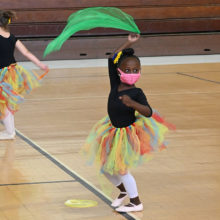 GERNON BROWN REC CENTER
1001 Harrison Avenue
New Orleans, LA 70124 MAP
Tuesdays / Sept. 14 – Dec. 14
4:15-5:00pm • Early Childhood Ballet (Group A) (4-5 y/o)
Thursdays / Sept. 16 – Dec. 14
4:15-5:00pm • Early Childhood Ballet (Group B) (4-5 y/o)
---
LYONS REC CENTER
624 Louisiana Avenue
New Orleans, LA 70115 MAP
Mondays / Sept. 13 – Dec. 13
10:30-11:15am • Early Childhood Ballet (Group A) (4-5 y/o)*
11:30am-12:15pm • Early Childhood Ballet (Group B) (4-5 y/o)*
---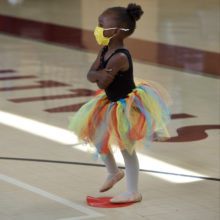 STALLINGS ST. CLAUDE REC CENTER
4300 St. Claude Avenue
New Orleans, LA 70117 MAP
Mondays / Sept. 13 – Dec. 8
4:15-5:00pm (Group A): Early Childhood Ballet (4-5 y/o)*
Wednesdays / Sept. 15 – Dec. 8
4:4:15-5:00pm (Group B): Early Childhood Ballet (4-5 y/o)*
---
ST. BERNARD REC CENTER
1500 Lafreniere Street
New Orleans, LA 70122 MAP
Mondays / Sept. 13 – Dec. 6
4:30-5:15pm (Group A): Early Childhood Ballet (4-5 y/o)*
Wednesdays / Sept. 15 – Dec. 6
4:30-5:15pm (Group B): Early Childhood Ballet (4-5 y/o)*
Questions
Have questions or need assistance with adult classes?
E-mail Millette at mwhite@nobadance.com, or call 504.522.0996 x 213
THANK YOU TO OUR GENEROUS SPONSORS