Adult Classes
Free, Open Community Classes
For seniors, adults and teens. Programming, schedules and locations subject to change. Register online in advance, or in-person prior to your first class.
Senior Dance Fitness
For Ages 55+
FALL 2023 SCHEDULE:
Mondays & Wednesdays, 10:30-11:45am at:
Morris F.X. Jeff, Sr. Rec Center, 2529 General Meyer Ave. – MAP | Aug. 14 – Dec. 13*
Joe W. Brown Rec Center, 5601 Read Blvd. – MAP | July 31 – Dec. 13*
Tuesdays & Thursdays, 10:30-11:45am at:
Lyons Rec Center, 624 Louisiana Ave. – MAP | Aug. 15 – Dec. 14*
Stretch, balance, cardio and dance for seniors ages 55 and up set to fun music, and more!
*No classes Sept. 4; Oct. 9; Nov. 20-23; Dec. 18 – Jan. 2
---
"This program keeps me active and stable – it is my medicine!"

-Participant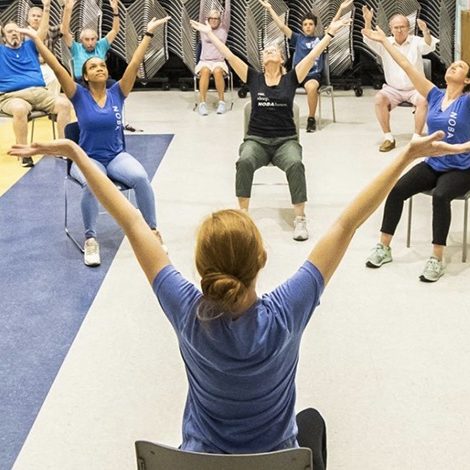 Oscar J. Tolmas Charitable Trust Dance for Parkinson's Program
ONGOING SCHEDULE, FALL 2023 & SPRING 2024:
Mondays, 10:30-11:45am at Pontiff Gym, Room 3, 1521 Palm St. (Metairie) – MAP
Wednesdays, 10:30-11:45am at JCC New Orleans, 5342 St. Charles Ave. – MAP
These FUN, free creative movement classes are specially designed for people living with Parkinson's. Caregivers and supporting family and friends are welcome, as are individuals with other movement or neurological challenges. Participants report benefits such as improved mood, balance, flexibility, and strength. No experience necessary.
Please join us and dance to LIVE MUSIC by accompanist Jeffrey Pounds!
Sponsored by the Oscar J. Tolmas Charitable Trust.
Classes are modeled after the Dance for PD® program developed by the Mark Morris Dance Group and the Brooklyn Parkinson Group, whose network of affiliates now spans over 300 communities in 25 countries around the world!
*No classes Sept. 4; Nov. 22; Dec. 18 – Jan. 1
"NOBA's program does a wonderful job of addressing the physical, mental and psychological needs of those with Parkinson's. It is great medicine that tastes good."

-Participant
Ballet Technique
Adults & Teens Ages 13+, Intermediate/Advanced Level
Led by NOBA Master Artists in Residence – Fall 2023 guest faculty includes former Dance Theatre of Harlem stars Christina Johnson & Vince Collins!
FALL 2023 SCHEDULE:
Fridays, 10:30am-12:00pm
Sept. 15 – Dec. 8, 2023*
Lyons Rec Center, 624 Louisiana Ave. (Irish Channel) – MAP
*No classes Nov. 24
Questions
Have questions or need assistance with adult classes?
E-mail Millette at mwhite@nobadance.com, or call 504.522.0996 x 213
THANK YOU TO OUR GENEROUS SPONSORS